HeyLo-Food From the Heart
Oct 25
New Blog
Hi! I have officially moved blogs. Well, I have wanted to do it for awhile, but now it is official.
Find me here:
Oct 19
What I ate Wednesday, #11
Ooooh Happy WIAW! I guess this week is going by faster than expected, which is always a good thing! Enjoy some of my eats, although I'll admit they aren't all from one consecutive day..ooops. Well, only the lunch was different. :)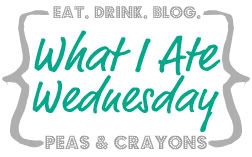 Prebreakfast- Crock pot season has arrived!! Fall. More fall posts to come, but how about a healthy stew with beans, tomatoes, onions, peppers, and greens to start off the day! No, I didn't eat this for breakfast, sheesh.
Breakfast- Panda Puffs, apples, pb, and yogurt. Yummmy! After having some of Ryan's fresh squeezed OJ.
Lunch- Leftover Pumpkin Mac and Cheese, recipe from ohsheglows! Its delicious, I added cheese to the top, shhh don't tell.
Dinner- Beans! Done! Had a bowl with a brown rice tortilla, hummus and half an avocado. The avocados from our CSA box this year have been the best I have ever had!
Happy Hump Day!
-Lauren
Oct 14
Happy Friday! Ryan made fresh squeezed orange juice for me this morning! What a great start to the day :)
Oct 13
Stevia
Is gross… I had high hopes that I would like the Vega whole health optimizer powder, but the stevia taste makes me want to throw up. Does anyone else have this problem with artificial sweetener flavor? I know stevia is supposed to be "natural" but it's nasty!
Oct 12
What I ate Wednesday, #10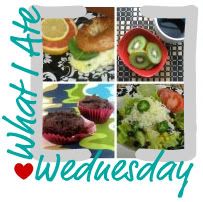 It's time for WIAW! This morning when I woke up I was convinced it was Saturday, that was unfortunate, but at least it's hump day! It was in the 90s today, I love October in San Diego!
Breakfast- Tea, yogurt, and an orange. Siggi's was on sale at whole foods this week :)
Lunch- Salad with avocado, apples, and walnuts, topped with my favorite poppyseed salad dressing (not pictured)
Lunch was served with a side of string cheese and a gorgonzola mushroom cornbread that I got at the farmer's market on Sunday. Delicious!
Afternoon snack- Carrots! I love munching in the office, although I'm sure the coworkers don't really like it.
Dinner- Veggie burger (sunshine burger, gluten and soy free) not my favorite but I fancied it up a bit and served it with some homemade sweet potato fries. The sweet potato fries were inspired by Mama Pea's recipe here.
Dessert- I even made a apple cobbler. Apples really are my favorite fruit, and it is most definitely apple season! The topping was simply coconut flour and oats mixed with some butter and sugar. It's healthy right? Hmm…I'll have to think about that one :) And I apologize for the lack of recipes, I've been creating in the kitchen just not documenting properly.
I am really excited for apple season, I think apple sauce, apple butter, and other apple goodies are in my near future!
What is your favorite fall food?
- Lauren
Oct 05
Dinner. Tater tots are the ultimate comfort food.
What I ate Wednesday, #9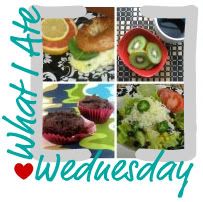 Happy Hump Day everyone! It's storming outside today, but I don't mind it much, it fits the mood with me being sick and injured. Hasn't been the best of weeks, I found myself with a re-pinched nerve in the back and some gross and evil cold. After sleeping all day I have the strength to bring you this post about my favorite thing ever, fooooood! 
Breakfast- Strawberries (yes, I am still holding on to summer) with panda puff cereal and plain yogurt, topped with some chunky pb :)
Lunch- An overly grilled, grilled cheese with langostinos and munster cheese on gluten free bread, with a side of tomato red pepper soup for the painful throat. This bread I got at a newish gluten free Encinitas bakery called 2Good2B, and it really is delicious! I also had a carrot cake cupcake there and you couldn't even tell it was gluten free. Definitely recommend! If only it wasn't as expensive, the loaf cost me $8 I think.
Dinner- More bean tacos! I have been eating bean tacos way way too much lately. These were with some roasted chickpeas instead of refried beans( just changing it up a little). I also had a side of sweet potato, yummm.
Stay dry San Diegans! And don't get sick! It is no fun!
-Lo
Oct 03
[video]
Oct 01
Really?
I woke up to this fake parking ticket today!
Its stupid and kind of mean.
I parked really well on the street when everyone else parks like a crazy person.
I don't get it. I mean I know it is a prank but put it on someone's car who actually parks mean or doesn't leave enough space for someone to park. I'm kind of confused though because on the fake parking ticket there was a name and real address from a different apartment number in our complex. So I wonder if the person was actually the one who wrote it or if it was a made up name. There was another car with one too. And the person was dumb and wrote the wrong make and model of my car, they wrote honda civic when I drive a volvo, and they took the time to write my license plate number right. So weird.
Oh well! Happy Saturday! Off to get ready for a wedding :)
Sep 29
[video]