What I ate Wednesday, #10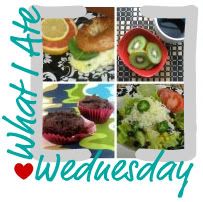 It's time for WIAW! This morning when I woke up I was convinced it was Saturday, that was unfortunate, but at least it's hump day! It was in the 90s today, I love October in San Diego!
Breakfast- Tea, yogurt, and an orange. Siggi's was on sale at whole foods this week :)
Lunch- Salad with avocado, apples, and walnuts, topped with my favorite poppyseed salad dressing (not pictured)
Lunch was served with a side of string cheese and a gorgonzola mushroom cornbread that I got at the farmer's market on Sunday. Delicious!
Afternoon snack- Carrots! I love munching in the office, although I'm sure the coworkers don't really like it.
Dinner- Veggie burger (sunshine burger, gluten and soy free) not my favorite but I fancied it up a bit and served it with some homemade sweet potato fries. The sweet potato fries were inspired by Mama Pea's recipe here.
Dessert- I even made a apple cobbler. Apples really are my favorite fruit, and it is most definitely apple season! The topping was simply coconut flour and oats mixed with some butter and sugar. It's healthy right? Hmm…I'll have to think about that one :) And I apologize for the lack of recipes, I've been creating in the kitchen just not documenting properly.
I am really excited for apple season, I think apple sauce, apple butter, and other apple goodies are in my near future!
What is your favorite fall food?
- Lauren
---
foodfromtheheart posted this
---